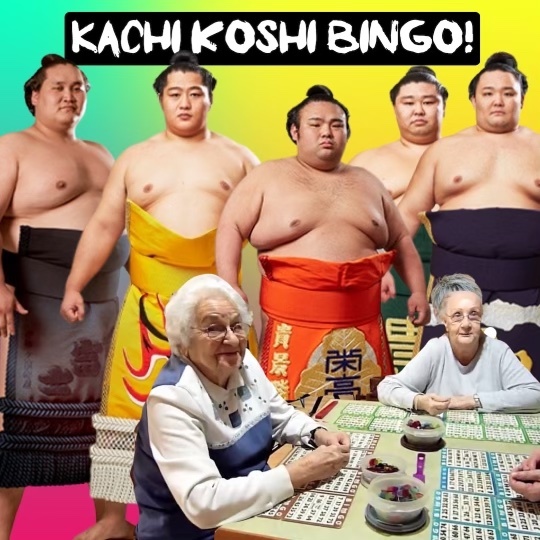 Play KACHI-KOSHI BINGO along with Sumo Kaboom & the Tachiai blog
BINGO CARDS are available the Wednesday or Thursday before each basho begins. If you want to be emailed when they are available, subscribe here. We won't share your email, and we don't email often. There's too much fun sumo to watch instead!
How do you win?
Claim a card. (MAKUUCHI HERE) (JURYO HERE)
Play in 1 BINGO game or both. Your choice.
Mark a wrestler when he gets 8 wins (kachi-koshi).
5 across, down or diagonal wins.
Be the first person to get a BINGO by sending us a photo of your completed winning card over social media DM or email us (

[email protected]

) to claim your prize ASAP.
New prizes for May 2021: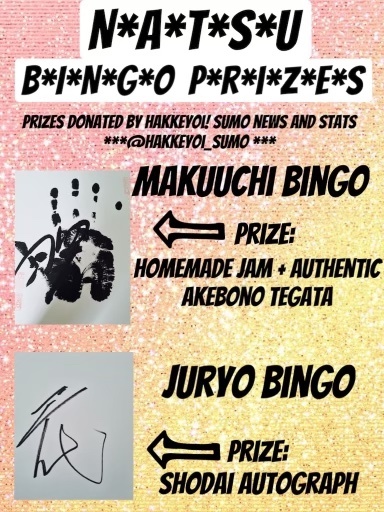 Reminders
It's the honor system. Be cool.
Squares are filled with wrestlers who are listed on the current banzuke. Even if a wrestler drops out before or during a tournament, he could still be on your card. Sometimes, it's just the way the cookie crumbles.
Even if it LOOKS like someone else won, keep playing. Because we like to acknowledge all BINGO winners in one way or another.
Have fun! Good luck! Ganbatte!